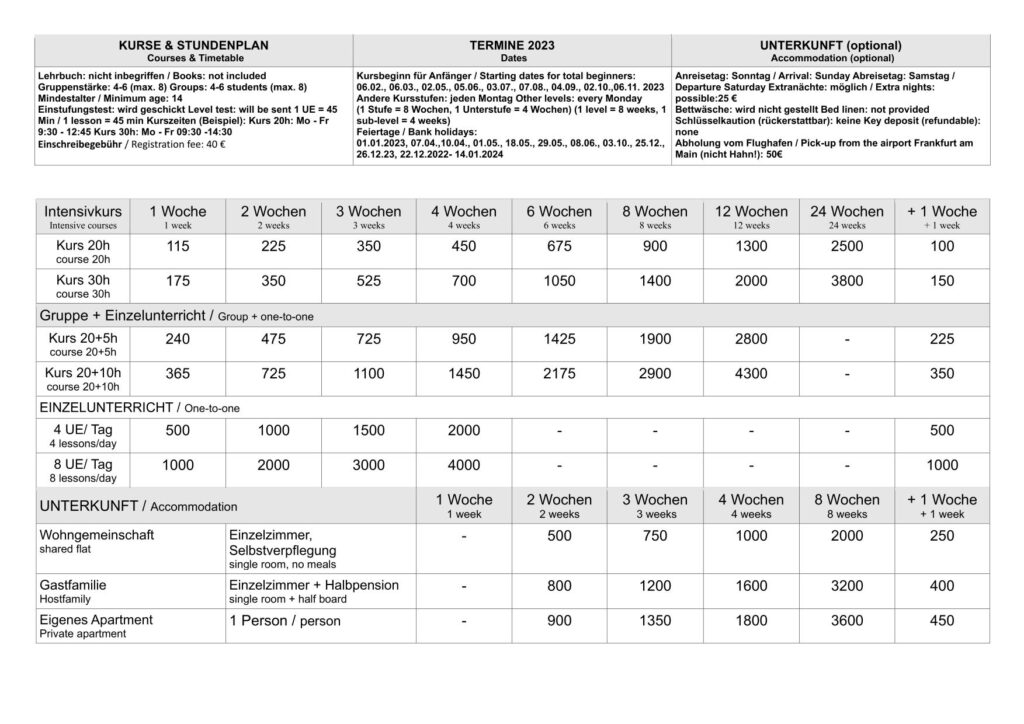 Unlock the Power of German in the Heart of Frankfurt!
Are you ready to embark on an exciting journey of learning German? Look no further! Our German language courses in Frankfurt offer a dynamic and immersive experience that will take your language skills to new heights while immersing you in the vibrant culture of this bustling city.
Why choose our German courses in Frankfurt? Here are just a few reasons:
Expert and Passionate Instructors: Our highly qualified instructors are native German speakers with extensive experience in teaching German as a foreign language. They are dedicated to helping you master the language and building your confidence in speaking, listening, reading, and writing.
State-of-the-Art Learning Facilities: Our modern language school in Frankfurt is equipped with cutting-edge technology and resources, creating an optimal learning environment. You'll have access to interactive materials, multimedia tools, and language labs to enhance your learning experience.
Small Class Sizes for Personalized Attention: We believe in providing individual attention to our students. That's why we keep our class sizes small to ensure that you receive personalized support and guidance from your instructors. You'll have plenty of opportunities to actively engage in conversations and practice your German skills.
Immersive Cultural Activities: Learning German is not just about language; it's also about understanding the culture. Our courses include exciting cultural activities and field trips, allowing you to explore Frankfurt's rich history, visit iconic landmarks, and interact with locals, all while practicing your language skills in real-life situations.
Convenient Location in Frankfurt: Our language school is conveniently located in the heart of Frankfurt, making it easily accessible for students from all over the city. You'll be surrounded by the vibrant energy of Frankfurt, with its thriving business scene, cultural events, and diverse community.
Don't miss this opportunity to learn German and gain a competitive edge in today's globalized world. Join our German courses in Frankfurt and unlock a world of possibilities. Enroll today and let us guide you on your language learning journey!